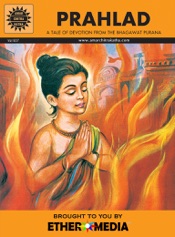 PRAHLAD
A tale of devotion from the Bhagawat Purana

A demon performed severe penance and obtained a boon: "My death be not caused by man or beast, during day or night, indoors or outdoors." And using this power he conquered the gods.
Prahlad, the demon's son was devoted to the protector god Vishnu and proclaimed the same even to his father. The demon was upset and tried various means to punish him. Prahlad believed that his god was everywhere. His father wanted to test if he was in the pillar, so he hit it. And out came a lion-faced human who fulfilled all the conditions to be able to slay the demon.This is the story of how that happened.