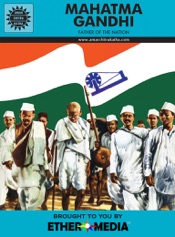 Mahatma Gandhi
Father of the nation

Mahatma Gandhi's life is a lesson in quiet determination, unflinching faith and profound values. Through a simple and most humble life, Gandhi went on to become an icon of freedom and peace, leading a nation and inspiring the lives of ordinary people to perform extraordinary tasks. Gandhi's deep rooted values and methods have been admired and adopted by world leaders across history from Martin Luther King to Obama as well as ordinary people in various walks of life.

With the principles of ahimsa (non-violence) and satya (truth) as the cornerstones of his ideals, Mahatma Gandhi is credited with the evolution of a socio political strategy that created a powerful mass movement which led to the fall of the British empire in India.

He became the leader of the Indian National Congress in 1921, and fought for social causes such as untouchability, as well as for swaraj (self rule). He led the non-cooperation and civil disobedience movement, culminating in the Quit India Movement.